Julie Berry
I must write this account, and when I have finished, I will burn it. Buried deep within the archives of a convent in medieval France is an untold story of love, loss, and wonder and the two girls at the heart of it all. Dolssa is an upper-crust city girl with a secret lover and an uncanny gift. Branded a heretic, she's on the run from the friar who condemned her mother to death by fire, and wants Dolssa executed, too. Botille is a matchmaker and a tavern-keeper, struggling to keep herself and her sisters on the right side of the law in their seaside town of Bajas. When their lives collide by a dark riverside, Botille rescues a dying Dolssa and conceals her in the tavern, where an unlikely friendship blooms.
Anne C. Voorhoeve
Winner of the Mildred L. Batchelder medal for most oustanding children's book in translation. Escaping Nazi Germany on the kindertransport changes one girl's life forever At the start of World War II, ten-year-old Franziska Mangold is torn from her family when she boards the kindertransport in Berlin, the train that secretly took nearly 10,000 children out of Nazi territory to safety in England. Taken in by strangers who soon become more like family than her real parents, Frances (as she is now known) courageously pieces together a new life for herself because she doesn't know when or if she'll see her true family again. Against the backdrop of war-torn London, Frances struggles with questions of identity, family, and love, and these experiences shape her into a dauntless, charming young woman. Originally published in Germany, Anne Voorhoeve's award-winning novel is filled with humor, danger, and romance.
Kathleen, Baldwin
It's 1814. Napoleon is exiled on Elba. Europe is in shambles. Britain is at war on four fronts. And Stranje House, a School for Unusual Girls, has become one of Regency England's dark little secrets. The daughters of the beau monde who don't fit high society's constrictive mold are banished to Stranje House to be reformed into marriageable young ladies. Or so their parents think. In truth, Headmistress Emma Stranje, the original unusual girl, has plans for the young ladies—plans that entangle them in the dangerous world of spies, diplomacy, and war.
Leila, Rasheed
A house divided… London is a whirl of balls and teas, alliances and rivalries. Rose has never felt more out of place. With the Season in full swing, she can't help but still feel a servant, dressed up in diamonds and silk. Then she meets Alexander Ross, a young Scottish duke. She has heard the rumors about Ross's sordid past just like everyone else has. Yet he alone treats her as a friend. Rose knows better than to give her heart to an aristocrat with such a reputation, but it may be too late. Ada is engaged to a handsome man who shares her political passions and has promised to support her education. So why does she feel hollow inside? Even if she hated Lord Fintan, she would have no choice but to go through with the marriage. Her father's heir seems determined to bring her family to ruin, and only a brilliant marriage can save Somerton Court and the Averleys' reputation.
Annika, Thor
Readers of Anne of Green Gables and Hattie Ever After will love following Stephie's story, which takes place during World War II and began with A Faraway Island and continued with The Lily Pond. Three years ago, Stephie and her younger sister, Nellie, escaped the Nazis in Vienna and fled to an island in Sweden, where they were taken in by different families. Now sixteen-year-old Stephie is going to school on the mainland. Stephie enjoys her studies, and rooming with her school friend, May. But life is only getting more complicated as she gets older. Stephie might lose the grant money that is funding her education. Her old friend Verra is growing up too fast. And back on the island, Nellie wants to be adopted by her foster family. Stephie, on the other hand, can't stop thinking about her parents, who are in a Nazi camp in Austria. If only the war would end. . . .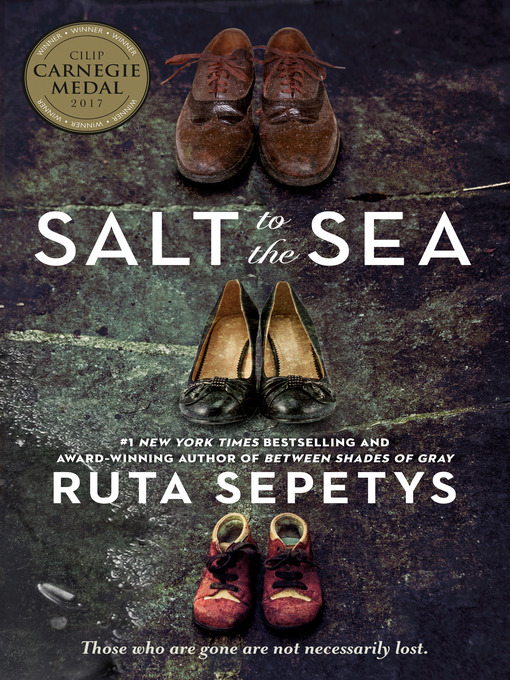 Ruta Sepetys
For readers of"Between Shades of Gray"and" All the Light We Cannot See," international bestselling author Ruta Sepetys returns to WWII in this epic novel that shines a light on one of the war's most devastating yet unknown tragedies. World War II is drawing to a close in East Prussia, and thousands of refugees are on a desperate trek toward freedom, almost all of them with something to hide. Among them are Joana, Emilia, and Florian, whose paths converge en route to the ship that promises salvation, the "Wilhelm Gustloff." Forced by circumstance to unite, the three find their strength, courage, and trust in one another tested with each step closer toward safety. Just when it seems freedom is within their grasp, tragedy strikes. Not country, nor culture, nor status matter as all ten thousand people aboard must fight for the same thing: survival.
Cat, Winters
Olivia Mead is a headstrong, independent girl–a suffragist–in an age that prefers its girls to be docile. It's 1900 in Oregon, and Olivia's father, concerned that she's headed for trouble, convinces a stage mesmerist to try to hypnotize the rebellion out of her. But the hypnotist, an intriguing young man named Henri Reverie, gives her a terrible gift instead: she's able to see people's true natures, manifesting as visions of darkness and goodness, while also unable to speak her true thoughts out loud. These supernatural challenges only make Olivia more determined to speak her mind, and so she's drawn into a dangerous relationship with the hypnotist and his mysterious motives, all while secretly fighting for the rights of women.
J. P. (Jamie P.), Buxton
Jerusalem, year zero. Flea belongs to a gang of teenage vagrants living in the shadow of the Temple, living on their wits and what they can beg or steal. When a man called the Magician arrives, bringing talk of miracles and revolution, Flea and his comrades latch onto the newcomer in the hope that he'll offer them a secure home. As events accumulate and powerful forces gather around the Magician, Flea notices rumblings of discontent among his followers. Is the Magician the savior he claims to be, or a fraud? Does Flea hold the fate of the Magician—and possibly the world—in his hands, as he begins to believe?
Anne, Blankman
The girl known as Gretchen Whitestone has a secret: She used to be part of Adolf Hitler's inner circle. More than a year after she made an enemy of her old family friend and fled Munich, she lives with a kindly English family, posing as an ordinary German immigrant, and is preparing to graduate from high school. Her love, Daniel Cohen, is a reporter in town. For the first time in her life, Gretchen is content.  But then, Daniel gets a telegram that sends him back to Germany, and Gretchen's world turns upside-down. And when she receives word that Daniel is wanted for murder, she has to face the danger she thought she'd escaped-and return to her homeland.
Nina (Writer), Berry
Pagan Jones went from America's sweetheart to fallen angel in one fateful night in 1960: the night a car accident killed her whole family. Pagan was behind the wheel and driving drunk. Nine months later, she's stuck in the Lighthouse Reformatory for Wayward Girls and tortured by her guilt-not to mention the sadistic Miss Edwards, who takes special delight in humiliating the once-great Pagan Jones. But all of that is about to change. Pagan's old agent shows up with a mysterious studio executive, Devin Black, and an offer. Pagan will be released from juvenile detention if she accepts a juicy role in a comedy directed by award-winning director Bennie Wexler. The shoot starts in West Berlin in just three days. If Pagan's going to do it, she has to decide fast-and she has to agree to a court-appointed "guardian," the handsome yet infuriating Devin, who's too young, too smooth and too sophisticated to be some studio flack. The offer's too good to be true, Berlin's in turmoil and Devin Black knows way too much about her-there's definitely something fishy going on. But if anyone can take on a divided city, a scheming guardian and the criticism of a world that once adored her, it's the notorious Pagan Jones. What could go wrong?